An open letter signed by over 550 scientists, and with backing from the larger international community, has been sent to the European Commission President Ursula von der Leyen, European Parliament President Roberta Metsola, and European Council President Charles Michel, calling for "climate smart forestry" management.
The letter, which was sent on October 27, 2022, has been welcomed by a wide range of forestry and bioenergy industry and academic stakeholders.
With forests increasingly under threat from a warming climate, the signatories call for "climate smart forestry" management, highlighting the essential role forests play in the environment as they store carbon and have the capacity to mitigate climate change while increasing biodiversity.
However, changing climate conditions are increasingly placing forests at risk which can only be reduced with proper management and the use of wood and biomass products in order to secure a sustainable bioeconomy and renewable energy production.
The letter points out that while forest management focuses on maintaining the health of the forest and primarily generating wood for wood- and fibre products, an inevitable by-product of harvesting, processing, and manufacturing wood products is the generation of low-quality material which has little or no other use other than for energy purposes.
The letter stresses that avoiding carbon dioxide (CO2) emissions from fossil fuels can only be achieved through proper forest management and wood utilization, the latter of which also includes energy purposes.
The use of wood for energy can "substitute fossil energy and is a significant part of climate protection policy in all European countries."
The letter notes that the climate benefits of wood products are numerous, as they create long-lasting items while embedding carbon and replacing more energy-intensive materials.
In addition, wood- and fibre products can support a renewable energy supply, establishing synergies with other forest-based industries and significantly contributing to climate policy in EU countries.
Energy substitution is an integral component of a managed forest and the associated wood products, the letter mentions, and the ongoing negotiations at the EU level regarding the Renewable Energy Directive (RED III), represent "a great opportunity to increase environmental ambition."
That said, the signatories caution against a ban on the use of wood for energy from sustainably managed forests.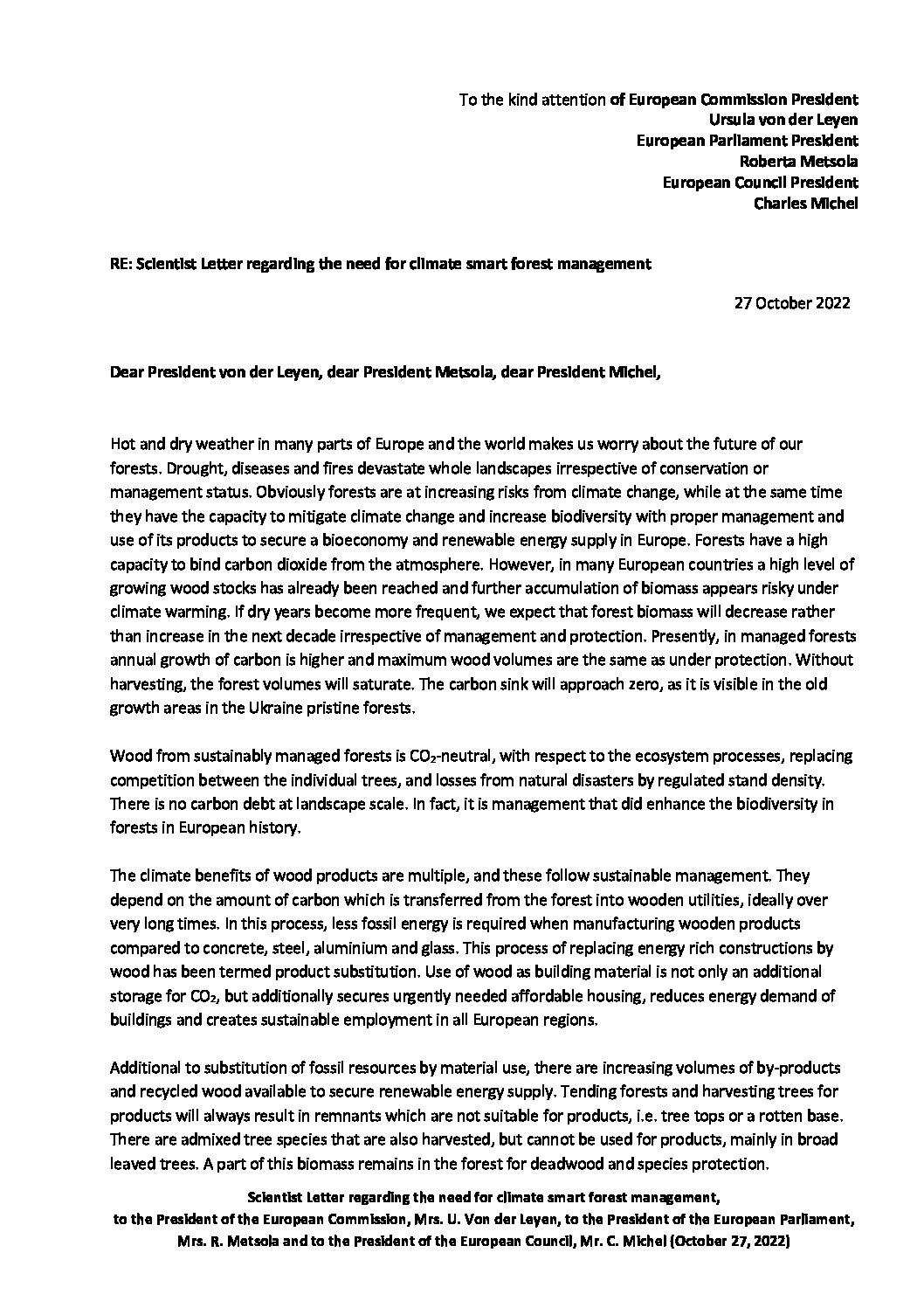 Original document
PDF 334.65 KB
An open letter signed by over 550 scientists calls on the EU to adopt "climate-smart forestry" management.
[Bioenergy International]